Add your brand language to

powerpoint presentations!
Get your powerpoint template designs from us and effectively communicate your business values to your audience
Communicate the values of your business, captivate your audience's attention & Let your presentations come alive through lively powerpoint template designs from Logo Design Pros
Our portfolio illustrates our 7 Year experience of crafting custom powerpoint page design.
Click to enlarge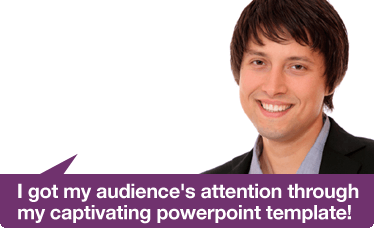 Baker Paul, a wedding planner said: My business required me to meet multiple clients and present them how can I make their precious moments memorable. I wanted a template that can correctly communicate the essence of my offerings in a lively yet corporate way. I found out about the PowerPoint template design service of Logo Design Pros. It worked wonders for me, every presentation proved to be successful business after it. I am so thankful to Logo design Pros for such creative piece of work. I would definitely recommend them to you all!

Why get a

Powerpoint template design?
A properly designed powerpoint template can gauge your audience's attention into your presentation far effectively than an ordinary template. businesses will be able to attract more customers and generate increased sales.
With us you will get

An attractive powerpoint template design in affordable price

1 powerpoint template concept
With this package, you will get...
Complete Ownership of your design
Logo Design Pros provides its valuable customers with complete ownership rights for their designed products



Free Clip arts
We will provide you with Free clip art designs to incorporate in your PowerPoint Presentation Template, depending upon the requirement of your brand
24/7 Customer Support
We are here for you 24/7 whenever you need us, all your queries and problems will get handled by our top design consultants.

Expand the sphere of your

social connectivity
Along with your PowerPoint Template you can additionally get custom designed pages for Facebook, Twitter & Youtube and get connected to your customers more effectively. Your customers are already spending a significant time connecting to their friends and favorite brands on these websites, it's time you make your presence there in a professional and creative way.