Logo design pros brings exclusive offer to give your old and outdated logo, a fresh new look! We will make your logo modern in just £119 so that your brand remains innovative yet more up to date!
Make your logo beautiful in just £119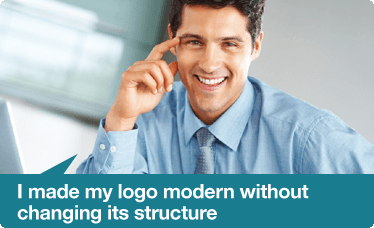 Chris Garner, a massage parlor owner said "We sensed our logo was getting out dated and forgettable, we wanted to grab our audience attention without changing the basic design of our logo, the best option we had was to get our logo Redesigned. I choose logo design pros for the job, and they transformed my logo to the latest Industry standards. I would definitely recommend logo design pros to my friends and colleagues.
Why get a
logo redesigned?
Design of your corporate identity reflects true essence of your brand and its values, if its outdated and unattractive, that leaves a negative impact on your consumer mind, so it's better to get your logo redesigned to give your brand a more subtle and fresh look, without effecting the basic design of your logo.
With us you will get

Logo Redesign that's up to date with latest industry standards


1 Logo Redesign
With this package, you will get...

Complete Ownership of your design
Logo Design Pros provides its valuable customers with complete ownership rights for their designed products


Free colour options
Free colour option for your logo design to give you more choices for your corporate identity

24/7 Customer Support
We are here for you 24/7 whenever you need us, all your queries and problems will get handled by our top design consultants.


Take your holiday sales on an inclining path, convey your offers and special holiday discounts in true spirit of your brand. Get your logo holidized by Logo Design Pros


You can also get any two above mentioned holidays replaced with your preferred ones.