Catch your Customer's Attention with Creative Logo Animation
If you are looking to carve a meaningful identity in your customer's mind, do it through Animated logo design from us.
If your current logo is not attracting customer's attention, it's time now to stun your audience through your lively Animated logo from Logo Design Pros.
Our Work illustrates our 7 Year experience of crafting custom Animated Logo.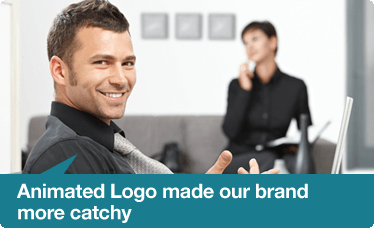 Peter Harrison, a communication agency owner said: Our clients were complaining about our logo being old fashioned and boring. We wanted a lively animated logo for ourselves and we got it done form Logo Design Pros. It is just amazing, our orders have increased significantly after that & our clients are happy as being a communication agency, we have a logo that properly communicates with them. Thanks to logo Design Pros, We strongly recommend them for their astounding piece of work!
Why get an
Animated logo design?
Capture your viewers' attention through your dynamic animated logo design form Logo Design Pros. It allows easy recall of your brand and serves as a strong marketing tool for your business.
With us you will get

A well designed Animated logo that will speak volumes for your business in affordable price


1 Animated logo
With this package, you will get...

Complete Ownership of your design
Logo Design Pros provides its valuable customers with complete ownership rights for their designed products


Smooth Animation
We provide quality animated logo with smooth animation of international standards.

24/7 Customer Support
We are here for you 24/7 whenever you need us, all your queries and problems will get handled by our top design consultants.

Take your holiday sales on an inclining path, convey your offers and special holiday discounts in true spirit of your brand. Get your logo holidized by Logo Design Pros


You can also get any two above mentioned holidays replaced with your preferred ones.