A fast & mobile way of publicity,
your
car wraps design!
Synchronise you business vehicle with your branding strategy through affordable car wrap designs from us
Use your business owned vehicles as a marketing tool to elevate your brand positioning by noticeable Car Wrap designs from Logo Design Pros. Designs at Logo Design Pros are created by expert designers according to customer's specifications. This is the reason all our designs comes with success attached to them!
Our portfolio illustrates our 7 Year experience of crafting custom car wrap designs.
Click to enlarge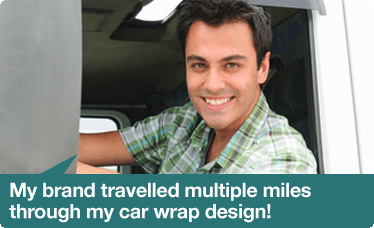 Jeff Thomas, a freight mover said: I own a small freight moving company with few trucks. I wanted to promote my business but was worried about the huge advertising costs. Thanks GOD I came across Logo Design Pros and got an affordable form of advertising, my car wrap design. I tell you their design aesthetics are amazing. My business promotion was successful and no worries of big costs. I would definitely recommend Logo Design Pros to all the small enterprise owners!

Why get a
Car Wrap design?
A wisely designed car wrap that includes your business philosophy in it attracts customers towards you and will help your brand positioning proceed to a higher level. Your car wrap design is also a cost effective way of advertising as it moves with your business vehicle. So avail the benefits of this useful design product through creative car wrap designs from Logo Design Pros.
With us you will get

An attractive car wrap design in affordable price


1 car wrap concept
This package also includes:

Complete Ownership of your design
Logo Design Pros provides its valuable customers with complete ownership rights for their designed products



Free colour options
We provide you a variety of colour options to enhance the creativity of your car wrap design

Free Stock images
along with your astounding car wrap design we will provide you with upto 5 free stock images

24/7 Customer Support
We are here for you 24/7 whenever you need us, all your queries and problems will get handled by our top design consultants.