Make a long lasting & constructive impression on your client through our artistic illustrative logo designs
Display your business values through an innovative blend of pictures, colours, styles & fonts in Illustrative logo designs from Logo Design Pros.
Logo Design Pros offers visually alluring illustrative logo designs in affordable price with unlimited revisions offer in shortest time!
Our Work illustrates our 7 Year experience of crafting custom illustrative logo.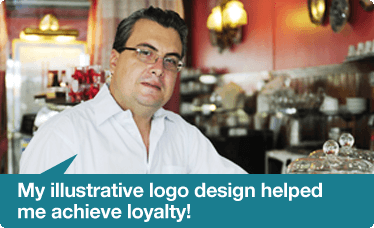 Charles Brain, a restaurant owner said: After the opening of other restaurants in the vicinity I was worried about my consumer's loyalty. My friend asked me to rebrand my restaurant through a vivid illustrative logo design. I got it done from Logo Design Pros. These people are amazing. No one else could have helped me in a better way than them. They provided me an illustrative logo design exactly the way I wanted, in shortest time. Now I am satisfied the way consumers are returning to my restaurant. I must say thanks to Logo Design Pros & would definitely recommend them to all!
Why get an
illustrative logo design?
A properly designed illustrative logo can gauge your audience's attention towards your business far effectively than an ordinary logo design, because an illustrative logo is livelier than a static logo design. So get your business a creative illustrative logo design to attract more customers.
With us you will get

An artistic illustrative logo design in affordable price


1 illustrative logo concept
With this package, you will get...

Complete Ownership of your design
Logo Design Pros provides its valuable customers with complete ownership rights for their designed products


Free colour options
We provide you a variety of colour options to enhance the creativity of your illustrative logo design

24/7 Customer Support
We are here for you 24/7 whenever you need us, all your queries and problems will get handled by our top design consultants.


Take your holiday sales on an inclining path, convey your offers and special holiday discounts in true spirit of your brand. Get your logo holidized by Logo Design Pros


You can also get any two above mentioned holidays replaced with your preferred ones.