Make a first class impression through our premium quality
presentation folders!
Get professional presentation folders that symbolises your business from Logo Design Pros.
We create customised Presentation Folder designs which are a vital reference to transmit your business excellence. So convey the essence of your business through communicative Presentation Folder designs from Logo Design Pros!
Our portfolio illustrates our 7 Year experience of crafting custom presentation folder designs.
Click to enlarge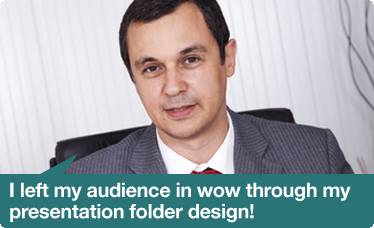 Peter Paul, a financial consultant said: My work required me to give lots of presentations to the clients. I wanted to get professionally designed presentation folders in which I can distribute the relevant collateral. Due to this reason I hired Logo Design Pros to design me a presentation folder. I was so happy with the results. Through the appealing presentation folder design I was able to engage my audience in the presentations, which means lots of new projects. Thank you Logo Design Pros for helping me achieve this phenomenal success. You should try them too!

Why get a
Presentation folder design?
Carry your brand in style with our creative Presentation Folders, send your important documents with strong brand impression.
With us you will get

A well designed Presentation folder that sets a positive tone for your presentation in affordable price


1 Presentation folder concept
This package also includes:

Complete Ownership of your design
Logo Design Pros provides its valuable customers with complete ownership rights for their designed products



Free complete coordination with printing company
We will make your life easier by providing you complete coordination with your printing company, so now you don't have to worry about the quality of your presentation folder design

Free Stock images
along with your astounding presentation folder design we will provide you with upto 5 free stock images

24/7 Customer Support
We are here for you 24/7 whenever you need us, all your queries and problems will get handled by our top design consultants.