Your
Postcard design

,
a powerful way to market your brand!


Acquire a forceful form of advertising for your business through influential post card designs from Logo Design Pros

Postcard is a vital tool for marketing, so talk to your prospective customer in
a persuading way and inform about your product offering through
sophisticated postcard designs from us! Logo Design Pros offers affordable packages, timely delivery & aesthetically designed Postcards that
complement your business.

Our portfolio illustrates our 7 Year experience of crafting
custom postcard designs.

Click to enlarge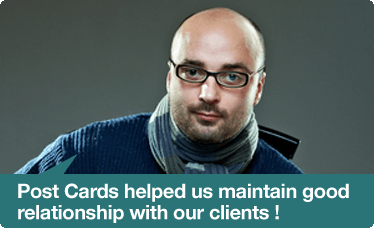 Patrick John, a publishing company owner said: In this tough competition, our business demanded publicity among the new writers. We contacted Logo Design Pros to resolve our issue. They created a fabulous Postcard design that promoted our business among our target customers. We were able to build a positive brand image for our business and generated sufficient clientele through this promotional postcard. Thank you Logo Design Pros! I strongly recommend them to everyone.

Why get a Postcard design?
A corporate postcard design has the ability to gain customer response, through which the business will know what the customers think about their product offerings. Also your postcard design can convey your marketing message to your prospective clients. Another useful reason for getting your inspiring postcard design done from Logo Design Pros is building positive image for your brand through this promotional print.
With us you will get

A well designed Postcard design will speak volumes about your business in affordable price


1 Postcard design concept
This package also includes:

Complete Ownership of your design
Logo Design Pros provides its valuable customers with complete ownership rights for their designed products


Free complete coordination with printing company
We will make your life easier by providing you complete coordination with your printing company, so now you don't have to worry about the quality of your post card.

Free Stock images
along with your astounding post card design we will provide you with upto 5 free stock images

24/7 Customer Support
We are here for you 24/7 whenever you need us, all your queries and problems will get handled by our top design consultants.

Expand the sphere of your

social connectivity
Along with your Postcard Design you can additionally get custom designed pages for Facebook, Twitter & Youtube and get connected to your customers more effectively. Your customers are already spending a significant time connecting to their friends and favorite brands on these websites, it's time you make your presence there in a professional and creative way.